Upcoming Events
​December 9
Christmas Open House and Foster's Raid Exhibit Opening

CSS Neuse Civil War Interpretative Center
Saturday, 10 am
Location: 100 North Queen Street

Come enjoy the exhibit on the raid of Union Gen. John Foster from occupied New Bern into the interior.
Randy Sauls, of the Goldsborough Bridge Battlefield Commision, will give a presentation at 11 a.m. The Kinston Christmas parade starts at 10 a.m. Afterwards, enjoy hot cider and cookies at CSS Neuse Interpretative Center.
Exhibit opening fee; refreshments free.
​ Afterwards, come visit the CSS Neuse II - open until p.m.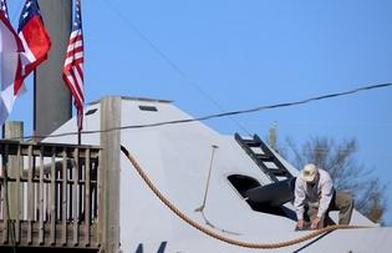 Putting a sunny day to good use
David Mooring, president of the CSS Neuse Foundation, works atop the CSS Neuse II installing mooring lines on an exceptionally sunny Saturday morning on Nov. 21.
The full scale ironclad replica relies on volunteers like Mooring to operate. Monetary donations as well as donations of time and energy keep Neuse afloat.

---